50% Off our 64 Strand End Glow Fiber Optic Cable!
This versatile end glow cable is utilized by model builders as well as star ceiling installers.
No coupon code necessary, just add the desired length to your cart, the 50% off discount will automatically be applied. While supplies last.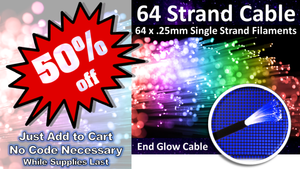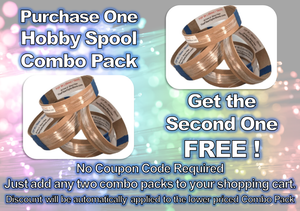 Buy One Hobby Spool Combo Pack - Get The Second One FREE!
Purchase one of our popular Hobby Spool Combo Packs and receive the second one FREE!
No coupon necessary, however you will need to add two Hobby Spool Combo Packs to your shopping cart, once you do, the discount will automatically be applied!
The lower priced combo pack will be discounted to $0.
Or, You could add your favorite HSCP to your cart, then increase the quantity to "2". The shopping cart will automatically apply the discount to one of them.
VIDEO: What are Hobby Spool Combo Packs?
We're continuing our FREE 1000M promotion!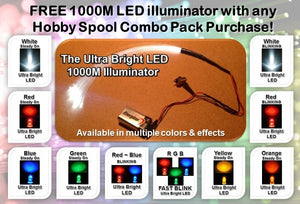 VIDEO: The 1000M Ultra Bright LED illuminator in action!
---
End Glow Fiber Optic Filament
---
Solid Core Side Glow Fiber Optics